Gift Shop in Pismo Beach, CA
Located just one block from the iconic Pismo Beach Pier, Pier Gifts is the number one choice of gift shops in the area! We bring you a huge selection of delightful trinkets and souvenirs to commemorate your time in Pismo, including seashells, art, apparel, postcards, pocket knives, jewelry and much, much more. Come visit us and experience what tourists from all over the world have come to enjoy!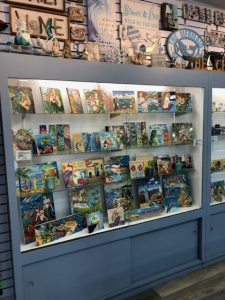 Commemorate Your Visit to Pismo Beach
California is known for its sun, surf and sandy beaches. But no two beaches are quite the same, and few compare to the quaint, quintessential beauty of Pismo Beach. That's why thousands and thousands of tourists flock from nearby towns, across the country and from around the world to visit our little seaside town. And before they leave, all of them visit one of the best gift shops in Pismo Beach, CA: Pier Gifts.
We've been tending the flock of tourists for more than 30 years, sending them home with gifts and souvenirs that remind them of the beach and all the memories they make while visiting. Located just a block from the pier, it's easy to stroll into our souvenir shop and explore as you take in the sights and sounds of the town. There aren't many novelty shops in Pismo Beach, CA that offer the selection we do—everything from postcards and shells to jewelry, windchimes, art, photography and personalized nautical gifts. Whether you're shopping for yourself or someone else, or just want to learn more about Pismo Beach Pier and the local area, we welcome you into our shop. Stop in—we're sure you'll find something that'll remind you fondly of Pismo Beach each time you look at it!
We're conveniently located just one block from the Pismo Beach Pier!
Our shop is home to the area's largest selection of seashells and souvenirs.
We pride ourselves on excellent customer service and satisfaction.
We've been family-owned and -operated for more than 30 years!
Our souvenir shop has welcomed customers from all over the world!
Gifts to Make Memories
Make your stay in Pismo Beach, Avila Beach, Arroyo Grande, or Obispo County, CA one to remember! Pick up a treasure for yourself or a gift for someone else at Pier Gifts, and bring a piece of the pier home with you. Stop into one of the best novelty shops in California today!
Stop by and see the largest selection of souvenirs and seashells
Pismo Beach, CA
Bakersfield, CA
Tulare, CA
Fresno, CA
California Valley, CA
Paso Robles, CA
Santa Maria, CA
Santa Barbara, CA
Atascadero, CA
Grover Beach, CA
Shell Beach, CA
Arroyo Grande, CA